General Assembly
UUA Virtual General Assembly 2021
June 23-27
Youth Invited to Join Synergy Bridging Worship Service at GA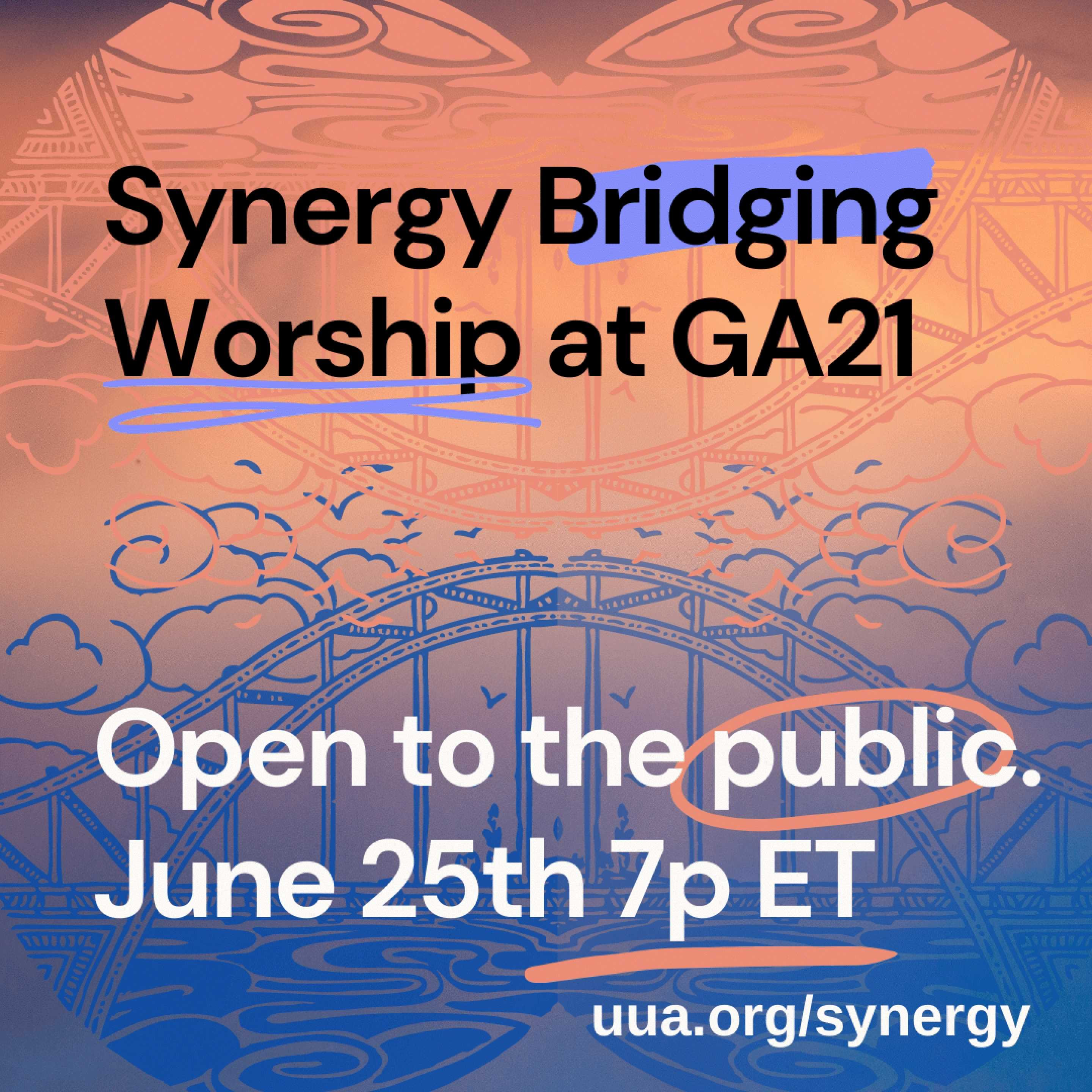 The Synergy Bridging Worship during General Assembly that honors and celebrates our youth transitioning to young adulthood (UUs call them bridgers) is free and open to the public. Even those bridgers who are not registered for General Assembly can be honored and their friends and family can attend the livestream. It's happening Friday, June 25th at 7:00 pm ET.
To be honored at Synergy, bridgers can submit a photo, short video, or just their name and congregation which will be featured in the worship service. Deadline for submissions is June 7th. Each bridger will receive a commemorative engraved chalice flame necklace.
Find more information and the bridger sign up form at the Synergy Service webpage.  Questions can be directed to Jennica Davis-Hockett at yayaministry@uua.org.
Prepare for GA by Joining a UUA Board Webinar
The UUA Board invites you to register for new webinars. What to Expect at GA 2021 will be offered multiple times, with an additional session providing an in-depth look at the Rules of Procedure. Each webinar will last 75 minutes and advance registration is required. Webinars will be recorded and posted on uua.org for on-demand viewing.
Register for General Assembly today! Stay up to date on all General Assembly information by visiting the GA website!
Choir Registration Now Open – For many, singing in the choir is a key part of coming together as UUs at General Assembly. This year, instead of joining our voices in person, let's join our voices in a virtual choir! Each singer will record a video of themselves singing, and those individual videos will be edited into one glorious combined video to be premiered during GA. Advance registration is required and space is limited.
Stay up to date on all General Assembly information by visiting the GA website!
General Assembly 2020 On Demand Library
The 2020 GA On Demand Library is now available to the public on Vimeo. In addition to the major GA worship services, business sessions and reports, the library includes the Ware Lecture, featured speaker presentations, learning stage presentations and huge number of workshops all previously available to GA registrants only. Visit the GA 2020 On Demand Library here.